RizomUV Nodelocked License Setup
This page describe the steps necessary to install the software, generate and setup the nodelocked license file.
If you have a floating license, please visit the floating license server installation page instead.
1- Install RIzomUV Software
Download the setup file from the production section of the download page, then run the setup.
2- Get your computer HOST ID
Run RizomUV software and copy the Host ID text presented at startup in your clipboard or whatever.
3- Generate your license file
If you Don't have any license YET
Visit the store page and get one. You will be asked for your Host ID.
If you already have a license and didN'T set your Host ID yet
Please visit your license account page, and click on the button "SET" to associate your computer Host ID to the license.

4- Download your license file
Then go to your license account page and press the "DOWNLOAD" button to download your license file, and copy it in a user-readable folder that best suit to you.
5- Run RizomUV
Specify to RizomUV the license file path using the "Browse License File" button of the License Activation Dialog, or using the License Manager that you can find in the Menu->File-->License Manager.
You can now run RizomUV by clicking on the "Run" button in the bottom of the dialog.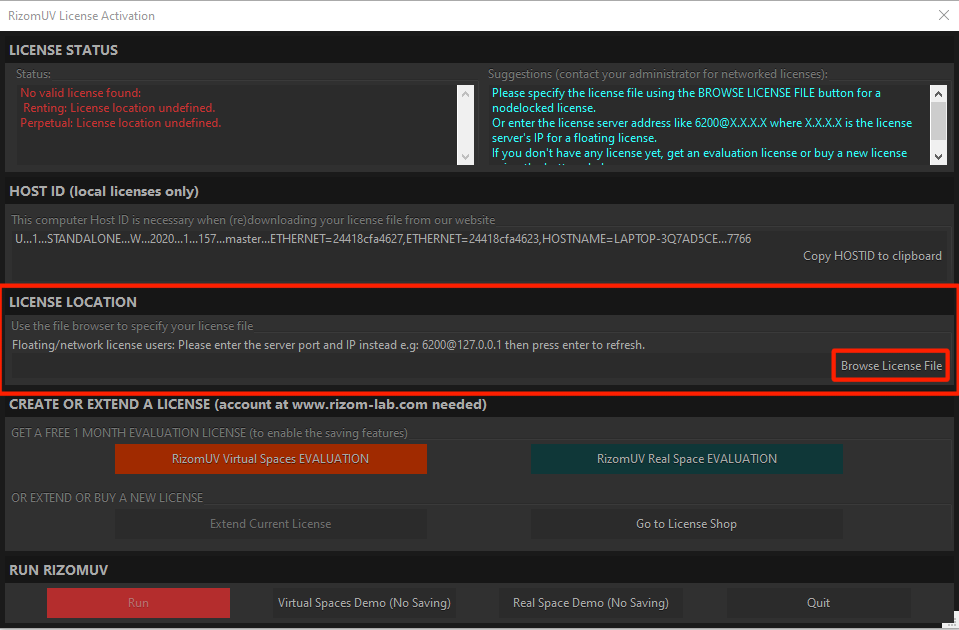 6- Got an issue related to license ?
If the "Run" button of the license activation stay red after having specified the license location, it means that there is an license related issue, in that case please read the "Suggestions" text located in the upper right corner of the dialog, it will help you to fix the issue.
If you still have an issue, contact us using that form and in order to speedup the issue resolution please include:
a screen shot of the RizomUV License Activation dialog (the window dialog shown above)
the email used for the license account
the license ID, that can be found in the license account page