Rizom-Lab 2019 Releases RizomUV 2019
Fast, superflat UV Mapper gives users workflow enhancements to make UV mapping even easier!
Marseille, France, June 25th, 2019
Today, Rizom-Lab released its first major update of the year for this standalone UV mapper. Built on one of the fastest and flattest algorithms around, RizomUV speeds up any UV mapping process by providing automatic as well as manual UV unwrapping and a hefty, easy-to-use toolkit to go with it.
"We believe quality of life is a top tier feature on par with code. So it was a conscious decision to focus on workflow improvements for our users, and this release consists of features and enhancements they requested. We implemented a scripting panel and (budding) script library, improved stacking, snapping and viewport options" says Rémi Arquier, developer and owner of Rizom-Lab "as well as FBX export and tiling enhancements. Our aim is to make the best UV mapping application possible for a market that grows more demanding by the day, and we can't do that without listening to our users. "
Available on both Windows and MacOS, and with a Linux-version currently calling for testers, (Ubuntu 18.4 and upward) RizomUV 2019 offers the following workflow updates and enhancements in RizomUV VS for general 3D work, and RizomUV RS for CAD:
A new script launcher panel similar to other applications, where users can load and store relevant scripts after using the LUA scripting tool
A budding script library with a starter script that lets users select an edge, and the script will find similar edges, unwrap and pack
Point snapping improvements for vertices, edges, polygons and island selections to vertices located on island's border. The snapping distance can be viewport zoom, grid, or absolute distance based
Grid snapping distance can now be viewport zoom- grid-(with possibility to subdivide more the current grid subdivision) or absolute distance based
FBX enhancements where Island Groups, UDIMs, Tile Geometry and Island properties are now saved into FBX files
Similar Island stacking changes, RizomUV now takes the current island selection as working set, meaning the first island selected is now the reference island and destination position.
Both viewports can now display either Flat or Unflattened or Both Flat and Unflattened islands. Tools and commands will be applied to what is currently displayed in the viewport under your mouse pointer.
In-panel statistics island, group and tile selection now displayed in color and condensed
Pricing/Availability
RizomUV 2019 RS and VS and SDK updates are free to currently licensed users. Currently on sale for new and existing users at a 25% discount with coupon code Rizom2019 until July 01st, new users can purchase a variety of licenses, ranging from student licenses at a 70% discount, Indie pricing at monthly (14.95 Eur) and annual rates (149 euro), as well as Pro (nodelocked and floating)and SDK licensing. Each non-SDK license allows use on two machines
About Rizom-Lab
A fast growing startup, Rémi Arquier started Rizom-lab in 2016 and started releasing RizomUV late 2017. The name comes from rhizome. A rhizome is an always growing, underground root system which never stops growing. And Rizom-Lab doesn't intend to.
RizomUV's products are used in pipelines ranging from VFX and game studios to indies, freelancers and hobbyists, and its use ranges from modelers and sculptors to texture and CAD artists. Currently, the company is on a quest to create the perfect UV mapping toolset for any pipeline, capable of generating shells, flattening and packing UVs in seconds, not hours, and making sure the bridge between modelling and quality texturing is a pleasure, not a pain.
For more information,or review copies, contact cirstyn@rizom-lab.com
Please read the changelog here

Feel free to use the following images for illustration or download them here.

Captions are suggestions.
Image by Serge Step.
RizomUV has a robust toolkit suitable for indies as well as studios.
Image by b Rizom-Lab
RizomUV caters to all audiences - Studio to Indie, VFX to CAD
Image by the Rizom-Lab team
Sporting a robust toolkit, it's easy to get fast and tidy UVs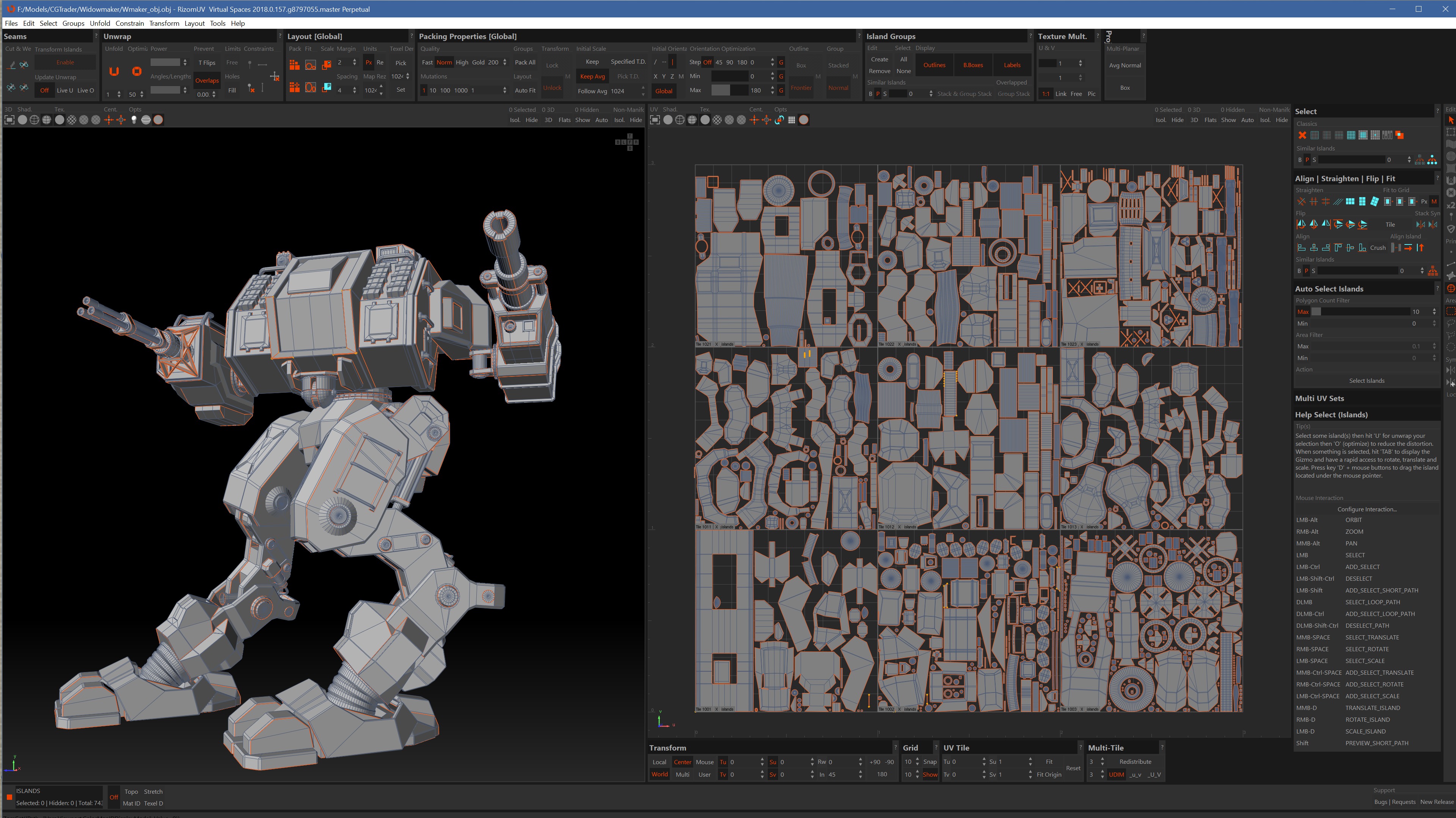 Image by the Rizom-Lab team
The fastst unwrapper on the market also does UDIMs in a snap - even for hard edged models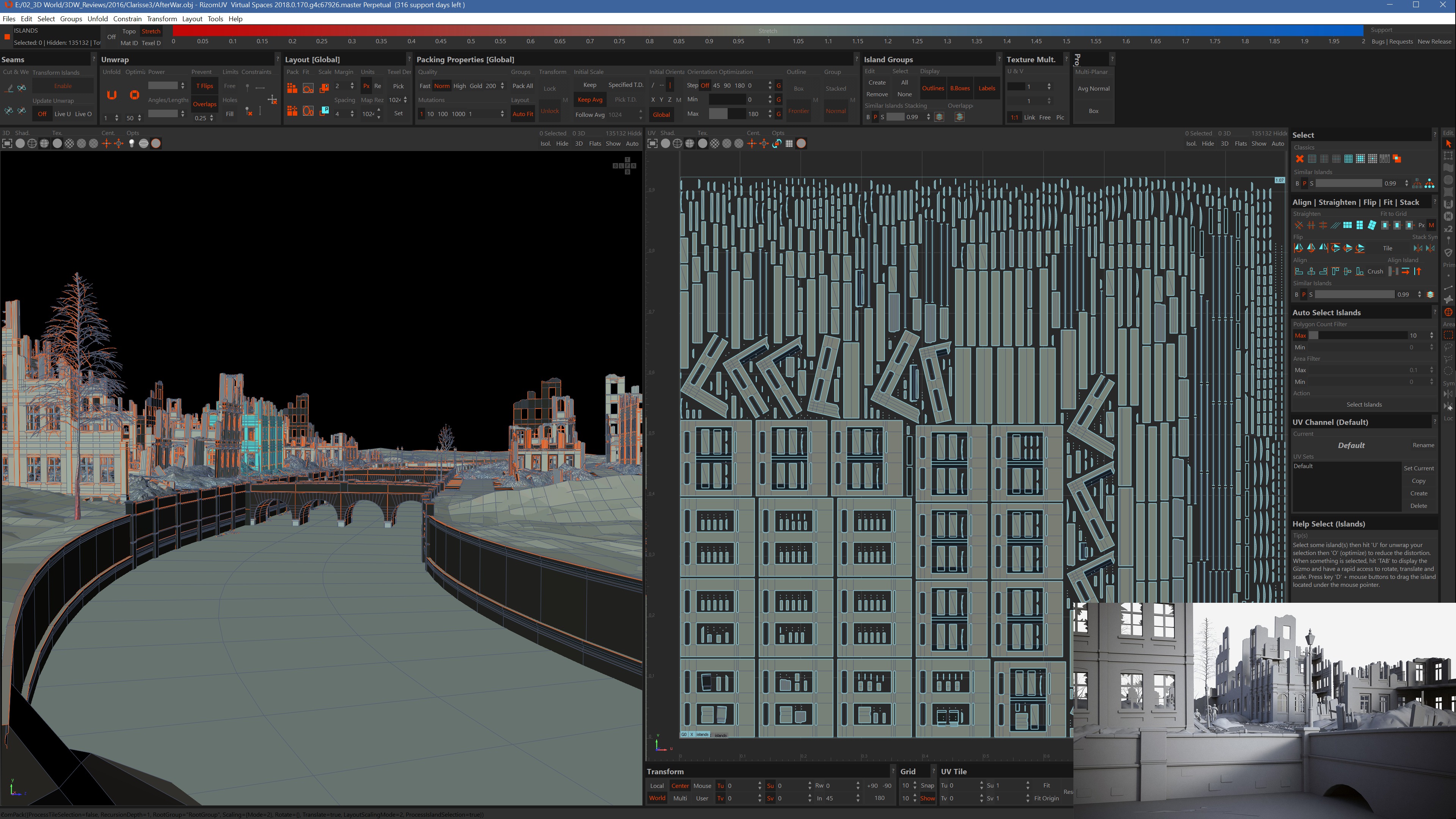 Image by the Rizom-Lab team
If you have the muscle, we have the functionality to have entire scenes in our UV mapper.