CONNECT, COLLABORATE, CREATE.
What is

Nvidia Omniverse™

?
Nvidia Omniverse™ is a virtual collaboration platform and simulation ecosystem developed by Nvidia. It is designed to help artists, designers, engineers, and other professionals collaborate on complex 3D projects and simulations in real-time.
Nvidia Omniverse™ leverages real-time ray tracing and AI technologies to enable high-fidelity rendering and physics simulations, making it suitable for various industries like gaming, architecture, film, and automotive design. The platform integrates various Nvidia technologies like RTX GPUs, RTX ray tracing, and AI-based tools to provide a seamless and interactive virtual environment for users to work together on complex projects.
It allows multiple users to collaborate in a shared virtual space, making it easier for teams to visualize, design, and make decisions collaboratively. The platform supports various industry-standard 3D formats and allows users to bring their assets into the Omniverse environment.
What is

RizomUV Connector

?
The RizomUV Omniverse Connector is a powerful integration that bridges the gap between RizomUV and Nvidia Omniverse, two essential tools in the 3D industry.
RizomUV, renowned for its efficient UV mapping and unwrapping capabilities, can now seamlessly connect with the collaborative and real-time simulation platform provided by Nvidia Omniverse. This integration empowers artists, designers, and developers to effortlessly transfer 3D models and their associated UV maps between the two environments, streamlining the workflow and enhancing the collaborative process.
With the RizomUV Omniverse Connector, users can now take advantage of the best of both worlds, combining precise UV mapping tools with the interactive virtual space offered by Omniverse for more efficient and effective 3D content creation.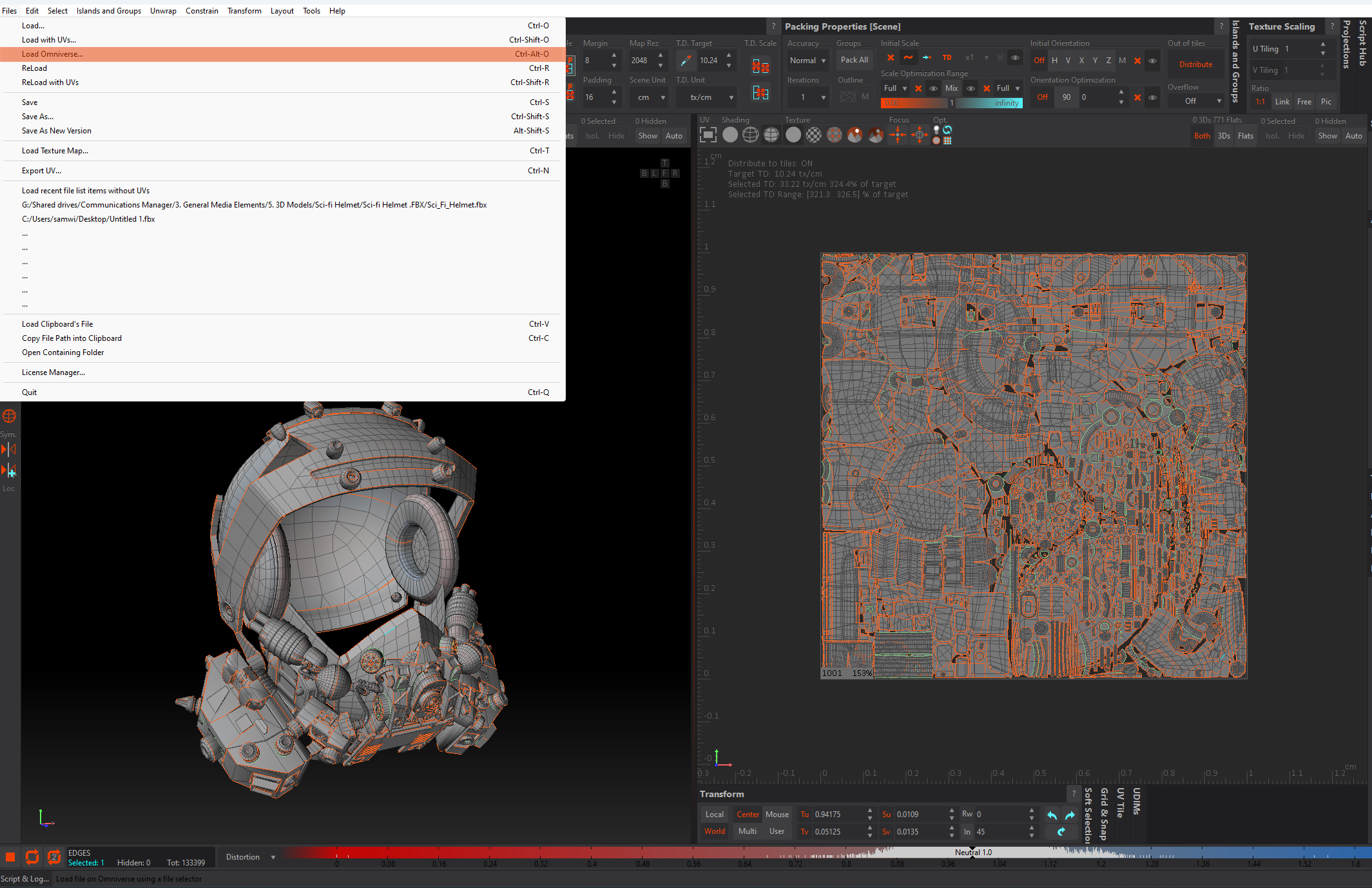 Do I need to Install

RizomUV Connector

?
No.
Some Omniverse Connectors are installed via the Omniverse Exchange, inside the Omniverse application. This is not necessary with the RizomUV Connector.
We decided to integrate our connector directly inside our application. So, as long as you have RizomUV 2023 and above, you will have access to it.
Requirements
• RizomUV 2023 or above
• Nvidia Omniverse™ Installed
• A Nucleus Server setup in Nvidia Omniverse™